So you're moving to Washington D.C.? Congrats! Chances are you just landed a job working on the hill, or an unpaid internship working for your favorite organization, or you're like thousands that move to D.C. hoping they will land that perfect job. You're not alone.
Every month there are thousands of new people that move to Washington, so chances are the person walking down the street next to you is just as new to our nation's capitol as you are. The Washington Post recently wrote a comprehensive guide to D.C. for millennials, who are taking over the city in ever-growing numbers.
I moved to Washington four and a half years ago from Minneapolis, and went through a bit of culture shock. I'm writing this survival guide in the hopes that someone will find some use, comfort and perhaps even a little humor as they transition into this city. DC is wonderful – congrats on your new adventure!
---
Washington D.C. – A survival guide
Learn about the fight for statehood
Since Washington is such a transient city, people come and go, often failing to take interest in local politics, and important fights like having D.C. become the 51st state. Learn more about why the fight for statehood is important to the people of Washington and how you can get involved.
The Metro is easy, clean and safe.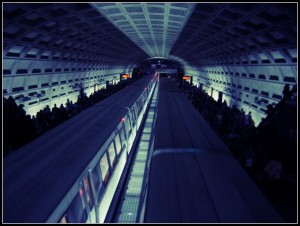 It's slower than it was a few years ago, but it will still get you from point A to point B. Note: on the weekends it's much slower, so you might want to use Uber or a cab on Saturday and Sunday.
Learn the last stop of each train line & which direction it travels.
For example, when I moved to D.C. the Dupont Circle stop was the closest to my apartment. I was often going to the hill so I remembered that Glenmont, was the direction going away from my home (I used the pneumonic device "Goodbye" to remember this). Similarly, Shady Grove is the direct I'd usually head when going home "Sweetie I'm hooommme!" is how I remembered that. Silly, but it worked!
Walk left, stand right.
The second you get on the long escalator when exiting the Metro, if you're not walking up the stairs, move right. This helps the flow of traffic and allows hurried Washingtonians to move about the city.
Dress code.
D.C. is much more professional than most cities, so if you are thinking of going casual or professional for your meeting, err on the side of professional attire. Before I moved to Washington I showed up for a meeting with former EPA Administrator Lisa Jackson, in an outfit entirely appropriate for a Minneapolis meeting, only to find I was the only person not wearing a full business suit.
Where to live.
There are a lot of neighborhoods that have different vibes and rent costs. I suggest walking through the neighborhoods to find the one that is right for you. Craigslist is a good starting point, but the best apartments can be found by walking through your favorite neighborhood and finding "For Rent" signs.
Group Houses: This is very common in D.C., to combat high rent prices adults in their 20's and 30's often live in "group houses." Most of these houses can be found on Craigslist and often require "interviews with housemates."
Dupont Circle/Adams Morgan: In Northwest D.C., these neighborhoods are great locations, safer neighborhoods with lots of access to the Metro and bus. 18th Street is a popular street with cafes, bars and restaurants.
Kalorama Heights: This is a small neighborhood between Dupont Circle and Adams Morgan that is a little gem. It's where I found my first D.C. apartment which was quiet, an easy walk to the Metro and close to all the embassies.
Logan Circle/U Street: Like most of D.C. these neighborhoods are "hip" and full of great restaurants, furniture shops. Note: Logan Circle is not located close to a Metro.
Capitol Hill/ Eastern Market: If you are working on the hill, Capitol Hill and Eastern Market are great neighborhoods to live in and would be easy to walk or bike to work. These neighborhoods are more residential than Dupont and Adams Morgan. Eastern Market is an awesome place to visit on the weekends with open air markets, art and the world's best used book store.
Cheaper but farther away: Tenleytown (where American University is located), Georgetown is beautiful but no Metro access, Cathedral Hill and Brookland (NE Washington – good option for hill workers who don't want to live in the Capitol Hill neighborhood).
Craigslist vs. walking neighborhoods: When I first moved to D.C. I was touring apartments I contacted via Craigslist. I was striking out left and right. Then I found a neighborhood that I wanted to live in, walked around and wrote down phone numbers of places that were "For Rent." This was much more effective for me in finding a place I liked.  
Enjoy the hiking nearby.
There are incredible hikes within a short drive of Washington D.C. Check out this great book
 (affiliate link) with suggestions of hikes all within the D.C., Virginia and Maryland area. My favorite hikes are in Shenandoah National Park
 (affiliate link).
Lots of walking!
You'd be amazed at how much walking you'll do in any given day in Washington. Get comfortable shoes and don't be surprised if you have sore legs and shin splints the first few weeks you're here.
Fly in and out of DCA/National when possible.
If you can afford the extra $50-100's on your flight, fly in and out of "DCA" or "National" – note, no one calls it "Reagan." If you have to decide on another airport Baltimore BWI is the second best choice and Dulles IAD the last choice. BWI is much easier to get to via MARC train via Union Station than flying in and out of Dulles.
It will take an average of 40-50 minutes to get anywhere in D.C.
Even though it's a small town, when you combine walking to the metro or bus, waiting, riding and then walking to your final destination, it takes awhile to get around.
Car or no car?
If you have a car and want to bring it to D.C. I suggest doing so. There are great day and weekend trips in the surrounding Washington area and having a car to get to neighborhoods like H-Street in NE is really helpful. You don't need a car to live in Washington, most people don't, but it's really nice to have a car in town. Parking in some neighborhoods is easier (Kalorama Heights) than others (Adams Morgan) – but still worth it in my opinion.
Weekend trips.
It's ok to be in awe of the monuments.
Some people who have been in D.C. for a while don't even seem to notice the monuments. It's okay to take a moment to appreciate that you work in the nation's capitol, take pictures and be in awe of it all. Don't be afraid to be a tourist, even years after you've been in the city. There is a lot of history, art and culture to take in.
Save the museums for when you have friends/family visit.
With that being said, everyone will want to visit you now that you live in D.C. If you have guests they will want you to go to the same (wonderful) museums and tours. Save those for when you have family visit so you don't get bored. Your site seeing can include the fun things that aren't usually #1 on people's list like the National Holocaust Museum, Mt. Vernon, the Spy Museum, etc.
Spring is simply beautiful.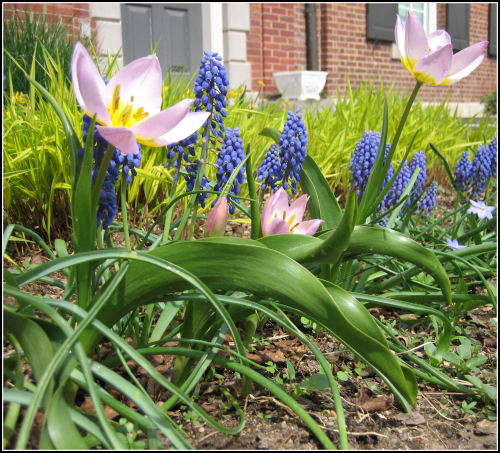 First, the plants start growing in February (as a Minnesotan, this blew my mind). And by April, the city is in full bloom. Enjoy walking around the neighborhoods, taking in people's yards, and the many, beautifully flowering trees. (The best time to have visitors is April and October).
Carry an umbrella with you.
Buy one of those small umbrellas and keep it in your bag. Since you walk around the city a lot it's hard to predict when it will start raining. I was caught in rain storms with nothing to protect me several times before I learned this lesson. You likely won't have a car to jump in to get out of the rain.
Everyone loves "brunch"
I don't know why, but everyone loves getting brunch in D.C.
Tabbard Inn.
Speaking of brunch, one of the best is at the Tabbard Inn on N Street NW. This is a place to have your friends and family stay when they come visit you. It's relatively cheap by D.C. standards, and is hands-down the most charming Inn in the city. The rooms are all unique, beautifully decorated and it has one of the best restaurants in the city. It's a traditional inn so there aren't televisions in the room, room service or fancy amenities. You won't need them.
It's okay if it's hard to find friends at first.
D.C. is a very young city, and I thought that meant I would have a zillion friends right away. Since there is such a high concentration of young people, it takes a while to meet and make friends. That's ok. Go to parties, invite yourself out with people, don't be afraid to ask someone you just met if they want to meet up. It took me a good year of living in D.C. before I found a circle of friends that really resonated with me. Give it time.
Blow off snooty know-it-alls.
Coming from Minneapolis, I was annoyed by the frequent snooty and hurried people I'd run into. I wish I would have learned sooner to just let it go. That is part of D.C.'s culture. You have arguably the highest concentration of power in the world in this city, and the staff that support those powerhouses. Many people think they are very, very special. Don't try to change it, just try not to let that happen to you the longer you live here.
Don't live in the suburbs.
If possible, don't move to Arlington or Silver Spring. You will save (some) money on rent, but not a lot. I have lived in both D.C. proper and Pentagon City and especially if you're new to the city living in the district will serve you well. There are a few perks to Arlington – quick access to great bike trails, but that's about it. For newbies to the city, you may feel isolated living in the suburbs and will miss out on the charm of walking around the D.C. neighborhoods. Since the rent in D.C. is so expensive, you can look into "group houses" to save money.
And last but not least, have fun!
It's a crazy, unique, beautiful, culturally rich city – enjoy your time here.
Join my weekly newsletter to make sure you never miss a post.
(Photo credit: pacensepatoso via photopin cc, feline_dacat via photopin cc) Disclaimer: If you make a purchase from one of the Amazon links, I will earn a small commission, at no extra cost to you!