Clean beauty is now becoming table stakes—in no small part, due to leading clean beauty companies. But as the clean beauty market grows, how can you tell what sets the leaders apart from the greenwashers?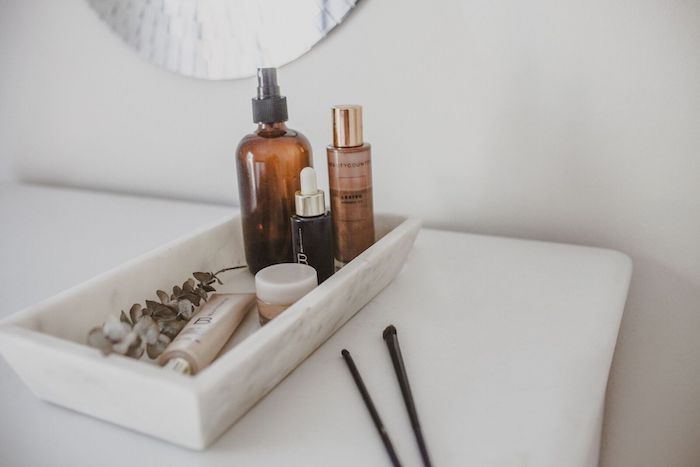 1. Disclose: All ingredients, for each product, publicly
Everyone likes to talk about transparency these days, but what does transparency actually look like? Ask your skin care or cosmetic company if they fully disclose all ingredients publicly. You'd be amazed how many companies are failing to do this. Widespread, selective labeling means that companies who are fully disclosing all ingredients need to spend more time explaining why certain ingredients are included or even necessary, like preservatives.
Fragrance is a catch-all term and can hide harmful ingredients, many of which are known allergens. According to the International Fragrance Association, over 3,000 different chemicals can be used or fall under the simple word "fragrance". Only purchase products from companies who fully disclose fragrance ingredients and preferably from companies who use cold pressed essential oils.
2. Screen for heavy metals in color cosmetics, on an ongoing basis
One of the cosmetic industry's dirty little secrets is they don't want to talk about "contaminants." Not everything that is natural is safe and heavy metals are a great example. The color used to make your blush pink, lips red, and eyelids purple are often contaminated with heavy metals. This is true for both natural and synthetic derived colors; many mineral "natural" cosmetics contain high levels of heavy metals.
Companies are not intentionally adding heavy metals to their products, they simply aren't testing for them. In the rare instance that a company is looking for heavy metals (I only know of a few companies who are), they aren't testing each batch for heavy metals. That's a problem because new color pulled from a different part of the earth and one batch could be free of heavy metals, and the next unsafe levels present. If a company is not testing for heavy metals on an ongoing basis, pass! If you want to avoid heavy metals with complete certainty, don't wear color cosmetics.
3. Beyond the "banned" lists: screening ingredients for safety
Being safe means different things to different people, and without any sort of federal system to identify what safe means, the industry gets to make its own standards. Today you will see companies bragging about how many ingredients they have banned (I never thought I would say this, progress!), but what is actually MOST important is how they screen and ingredient for safety.
Is a company assuming ingredients are safe because they are already on the market? Are they using a body of scientific literature to back up its safety claims? Are they doing the hard and nuanced work to decipher what levels of a particular ingredient are safe?
At a minimum they should screen for carcinogens, mutagens, reproductive toxicants, neurotoxicity, VOCs, allergens, and other harmful health endpoints.
If a company can't tell you how they define safety, move on to a new company.
4. Get certified: making things legit for consumers
It's confusing for today's consumers to navigate unregulated marketing claims. That is why I rely on certifications to help validate what companies say. Look for products that are EWG Verified or MADE SAFE certified. If you care about animal cruelty, look for Leaping Bunny. You can read more about certifications in the beauty industry HERE.
This exercise is for the most active and engaged consumer. Not everyone is going to ask these detailed questions or have the proper tools to know how to decipher a company's response. I encourage you to post any responses you receive from companies in the comments below, especially if you need help reading between the lines.
Never miss a post and join my mailing list.