The ethical fashion community is exploding and more people are shifting their dollars away from fast fashion. This is great news, but for me shoes were often left out of the equation. I've been investing in brands like Everlane, Apolis, Selva\Negra, and Rachael Harrah, but I've struggled to find ethical shoes that were great for everyday work or date night.
Enter Huma Blanco, my new favorite shoe company.
Huma Blanco gets it: leathers are dyed using vegetable dyes, and all of their shoemakers receive fair wages, gender equity, and benefits such as paid vacation, healthcare and maternity leave. And 99% of their materials are sourced locally in Peru. A percentage of Huma Blanco sales goes to the non-profit Ninos del Arco Iris, which aims to provide a brighter future for children of extreme poverty in Urubamba, Cusco.
Just like the rest of the fashion industry, taking these basic steps to use responsible materials and treat workers with benefits and fair wages, isn't the norm.
Shoes are something we should be paying more attention to. The leathers often undergo extensive tanning and dying, which commonly uses very toxic chemicals which are bad for the workers and the local water supply. Artisans are wildly underpaid and forced labor is commonly kept secret in supply chains. For all of these reasons, it's been important for me to shift my dollars towards companies working to do the right thing.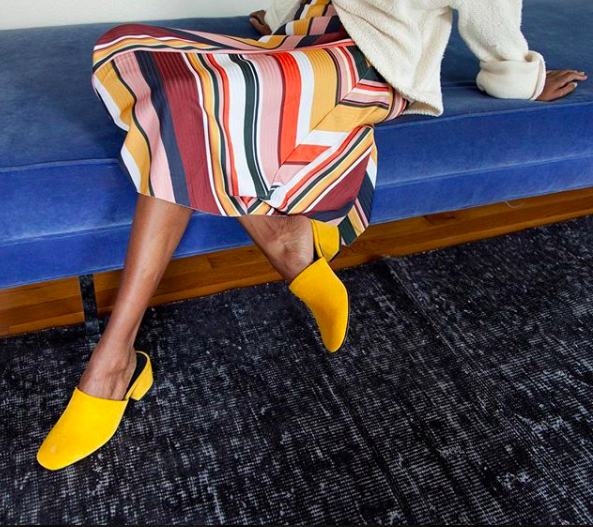 The Marione in Amber
I love this company so much that I proactively reached out to them and asked if they would want to work together. They generously gifted me two shoes: the Salvador and Marione (thank you!). The Salvador is their signature black heel (goodbye stilettos). I love how chic this black heel looks and it gives me great height without sore feet. The Marione dresses up a jeans and blazer combo or can be worn with dresses and jumpers, as pictured above.
Join me in supporting brands like Huma Blanco who work to treat the earth and their workers with respect. It's not enough for me to just focus on the clothes I buy, I'm now dedicated to saving up to invest in less shoes that are made with the earth and artisans who create them in mind.
Join my mailing list and never miss a post.