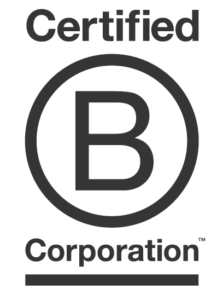 All you have to do is look at the fastest growing markets to see that companies with a safer, cleaner, and transparent ethos are taking the lead. The organic food sector has seen double digit growth over the last few years. The safer and natural beauty categories are out performing conventional brands by at least two fold. And massive companies like Unilever are now acquiring environmentally-concious companies like Seventh Generation, and investing in newer brands like True Botanicals.
Certified B Corporations (aka "B Corps") are considered leaders in their respective fields and have shown through their rigorous certification, to equally consider people (the health of people as well as their workforce), planet, and profits. This triple bottom line approach to business is the way of the future. As the B Corps team puts it,
B Corp is to business what Fair Trade certification is to coffee or USDA Organic certification is to milk."
Brand bashing is so 2005…So instead I hope to promote some of the best in class companies who are changing the world, one product at a time.
Apolis
Apolis weaves beautifully designed clothing with a global mission. In their own words, "Since our inception, Apolis has been a company centered on people. Whether it is our local Los Angeles-based manufacturers that make 60% of our collection, or our advocacy projects with cooperatives and non-profits in Uganda, Peru, Bangladesh, and Nepal, we believe in empowering communities through opportunity."
Beautycounter
Beautycounter is as forward thinking as they come. With a mission to get safer products into the hands of everyone, Beautycounter works to educate the public about harmful ingredients used in personal care products, offers safer products for the whole family, all the while advocating for more health protective laws in the United States and Canada.
Ecover/Method
The main reason I like Method and Ecover is that they are one of the first companies to bring safer formulated hand soaps and laundry to the masses. I appreciate when companies are able to move beyond niche "green" audiences and share more sustainable products with the mainstream consumer. Looking for an affordable, greener laundry detergent? Check out Ecover.
Goddess Garden
Goddess Garden made one of the first mineral sunscreens that wasn't insanely greasy, white or streaky. I had the pleasure to speak on a panel about "Women in Leadership" with their CEO—Nova Covington—at last year's ShiftCon Blogger Conference (pictured above). Not only is Nova down to earth and lovely to talk to, she recognizes that cooperation, rather than competition, is the way for the safer beauty category to truly reach the masses. If you're wed to spray sunscreen but want something safer than your conventional chemical brands, check out Goddess Garden!
Indosole
The next time you need a pair of flip flops, strappy sandals or shoes for the men in your life, shop Indosole. This B Corps is working to re-use waste, in this case old tires, to prevent toxic landfill waste all the while creating modern shoes.
Indosole is on a mission to salvage discarded tires and give them new life as soles for their footwear. So far, Indosole has prevented over 30,000 tires from ending up in landfills and have turned those tires into over 60,000 pair of shoes."
Klean Kanteen
I seem to have a thing for trailblazers :) Klean Kanteen was one of the first companies to make stainless steel water bottles, cool.
New Belgium Brewing Co.
New Belgium Brewing Co. is an employee owned brewery, and they also make some tasty beer! Members of the American Sustainable Business Council, New Belgium Brewing has "long considered the environment, our community and our co-workers as integral shareholders. We recently became a 100% employee-owned company and we see becoming a Certified B Corp as going hand in hand with that ethos."
Patagonia
Patagonia has a whopping score of 152 (the average is 52) due to their dedication to taking care of their employees, giving back to the community/grassroots organizations and their supreme corporate governance policies. I could write 10 blogs about all the great things Patagonia is doing, but instead I'll just encourage you to shop this fantastic clothing line.
Seventh Generation
Seventh Generation not only makes wonderful dish soap, toilet paper and laundry detergent, they also treat their employees very well. Seventh Generation "Covers health insurance for half-time employees; Fully matched retirement plan available to all employees; Offers off-site subsidized childcare; >75% employees share ownership." Plus, Seventh Generation is at the helm of an important transparency bill in the California legislature, which would require cleaning product companies to list ingredients on their labels. Cool huh?
S.W. Basics
Speaking of basic, I have long admired the team at S.W. Basics, a skin care brand based out of Brooklyn. Their company philosophy is that they will only use 5 or less ingredients in their toners, face oils, and soaps. It's only fitting that they are a B Corps and worthy of your support.
I will continue to watch with a hopeful eye as the B Corporation community grows, here's to a future where a triple bottom line is the new "business as usual".
Join my mailing list and never miss a post.