Growing up in Minnesota the winters are cold, dry and beautiful. And my life was forever changed when I started to sleep with a humidifier in my room: my skin was more hydrated, my throat wasn't scratchy when I awoke and I got sick less often. Taking care of your skin in dry climates is important and I have a few solutions that extend far beyond using a humidifier.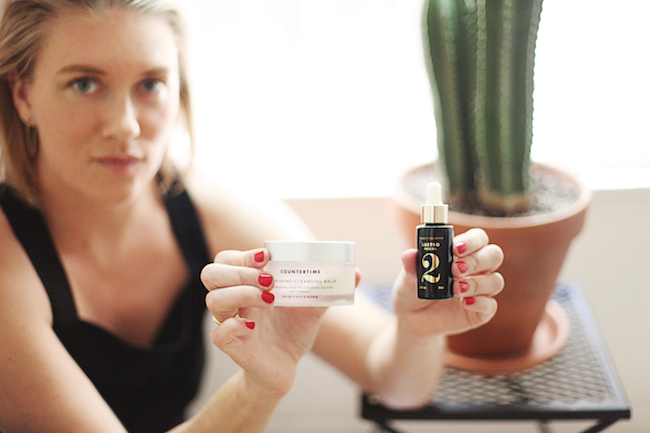 There are a few products that work, and I mean REALLY work, if you live in dry climates and they have all been given my stamp of approval regarding ingredient safety.
Maty's Breathe Better Nose Cream
I have an issue with dry sinuses during the winter, when I'm in the desert or when I'm sick. If you're in the same camp you know it can be very uncomfortable. Throw away the petroleum based Vaseline and instead check out Maty's Breathe Better – Nasal Ointment. Sounds gross, but it's not, simply apply with a q-tip and you're good to go.
My two cents: I bring this with me when I travel, as to prevent dry sinuses while sleeping in hotel rooms.
Cleansing Balm (face, elbows, cuticles)
I have written about this 10 in 1 product a bunch, simply because it's so amazing. Are you one of those people with really dry skin? Like nothing really works? Then you should try this Cleansing Balm. This product is an oil-based cleanser, but it doubles as a night cream with anti-aging properties. It's thick and creamy and when worn at night (or even during the day under your makeup) can help alleviate chronically dry skin. I have a tendency to get dry patches on my cheeks in the winter, and this product melts away dry skin overnight (literally). You can also use it on your body, elbows, and cuticles.
My two cents: There is no other product on the market that eliminates dry skin on my face and hands as fast and effectively as this Cleansing Balm.
Rosemary Citrus Body Oil
We had a holiday party last night and I had some major static cling happening. To fix the awkward situation I simply applied this yummy smelling Body Oil to my legs. But besides being functional, this product is great at keeping your body moisturized during the day and is great for giving your loved one massages!
My two cents: Apply the oil right after your shower when your skin is slightly damp. This creates an easy application, requires less oil and maintains moisturized skin all day long.
Face Oils
Yet another product that have saved my crazy ass skin. Having dealt with major acne over the years, these products helped balance out the underlying dry skin that was causing my acne. More on face oils and active skin HERE.
My two cents: Face oils have personally helped balance out the oil content of my skin and eliminate acne. I'm a personal fan of the Hydrating and Balancing oils in this collection.
Night Cream
For those of you who don't enjoy using oils and were prefer a cream, I simply LOVE this Rejuvenating Night Cream. It's hydrating but lightweight (a miracle right?!) and has the slight scent of magnolia flowers. This product—like all others on my blog—is formulated without harmful or questionable ingredients.
My two cents: This night cream has drastically helped vanish the dark spots on my cheeks, reduce the visible signs of melasma and even out my skin tone.
Body Butter
This is another great product for someone who wants to moisturize their whole body, but prefers a cream over oil. This Body Butter formula is thick (but not TOO thick), non-greasy and has a delicious citrus smell.
At the end of the day having dry skin can be really uncomfortable, but it doesn't have to be. I hope you try and enjoy some of these safer skin care products, perfect for dry climates!
Never miss a post and join my mailing list.