I'll start by saying that my results weren't what I expected. I eat a healthy diet, including almost entirely sustainable seafood, and I limit my consumption of fish known to have high levels of mercury like tuna and swordfish. When I set out to have my hair tested for mercury, I thought I was going to ACE this test! As it turns out, in an effort to avoid meat, I may be eating too much seafood.
I was one of 254 women who enrolled to participate in a study by the Environmental Working Group (EWG) to understand how much mercury women of childbearing age were exposed to. EWG asked me to take a survey to understand how much and what type of seafood I ate. To qualify you needed to eat at least two fish meals per week and as I was filling out the survey I thought I would have very low mercury levels. I mean, this is my field after all, I recommend what types of fish other people should eat.
Then I had my friends cut out a chunk of my hair, tied it in a bow and sent it off to the lab. Several months later my results came in and while they weren't horrible, they were above the recommend mercury levels for pregnant women or someone hoping to be pregnant in the near future.
According to the Environmental Protection Agency, they say that women of child-bearing age should have no more than 1 ppm mercury in their body. As we know, federal standards are often on the high end of the spectrum and so it's no surprise that since 1999, new studies have shown that a woman's level of mercury should be less than .5 ppm.
My levels of mercury were .6ppm, above what is recommended by the latest science. EWG's Mercury Study found that 3 out of 10 women had high levels of mercury, mostly from sushi and tuna steak consumption, which are not included in the EPA's warnings.
I used EWG's Seafood Calculator and based on my demographic if I only eat from the green list, I can safely eat up to three servings a week of the fish listed below. And just like that, I realized that my slightly elevated levels were likely due to the fact that I eat fish more than three times a week. My increased fish consumption came as a response to eating less meat while still looking for nutritious high protein foods. (I recently wrote an article about tasty planted-based meat substitutes.)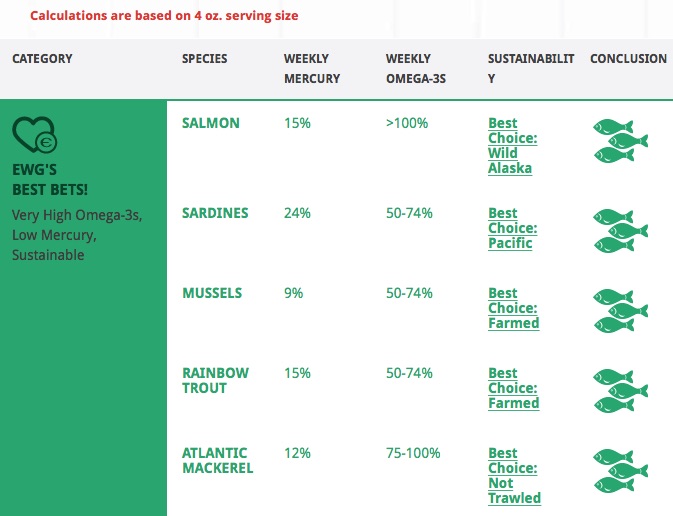 So what's that take home lesson? The EPA's current guidelines for mercury are not health protective enough and their "safe limits" should be lowered. Use Seafood Watch's Sustainable Seafood Guide to help decide which fish to eat. And find a healthy mix of plant, fish and lean meat proteins in your diet.
My favorite low-mercury sustainable fish include:
Kirkland Wild Caught Salmon (Costco)