As part of my What's in my… series I've explored the food in my pantry and non-toxic bath products. Today I'm going to take you under my kitchen sink to look at my staple non-toxic cleaners and detergents. Conventional household cleaners do more than clean your countertops; many contain harmful chemicals that have been linked to asthma, hormone-disruption and dermal irritation.
The good news is there are a variety of safe cleaners on the market and many are reasonably priced.
Disclaimer: If you make a purchase on some of the links below, I may earn a small commission. This doesn't cost you a thing and helps support the educational content of this site. Thank you!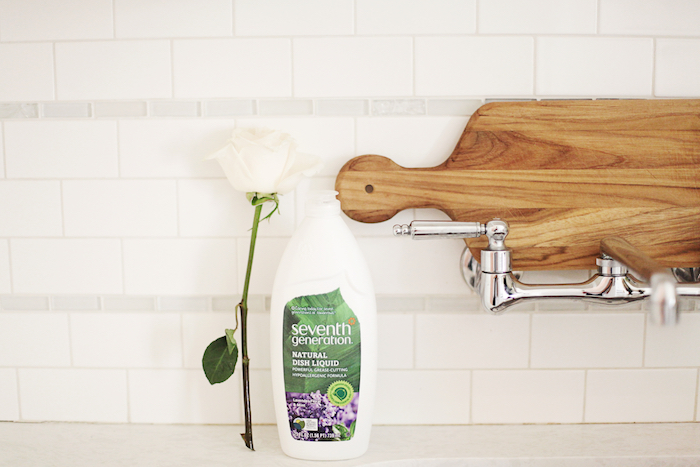 Non-toxic Cleaners and Detergents
Vinegar
Plain ole white vinegar is one of the most effective and affordable ways to clean your whole home. Did you know that vinegar kills over 80% of viruses and bacteria?! I put a 1/4 cup of vinegar in the dish washer if it starts to smell a little funky, use it on my counter tops for a disinfectant spray (you can mix 1 part vinegar to 3 parts water for a simple spray solution), and I even use it to wash the toilets (simply place a 1/2 cup of vinegar in the toilet and scrub).
White Vinegar 128 oz
$14.99
Dr. Bronner's Soap
One of the safest soaps out there, Dr. Bronner's can be used for a variety of cleaning needs. I like to mix the soap with water to create a simple yet effective hand soap at the kitchen sink, you can also mix together a simple non-toxic household cleaner, or use it to scrub dishes. Bonus? Dr. Bronner's has been a leader in advocating for fair compensation for their workers.
Dr. Bronners Castile Soap Organic Citrus Orange – 32 oz.
 $16.35
Molly's Suds Natural Laundry Detergent
Have you been looking for a good laundry detergent? Look no further than Molly's Suds. Not only is the product made from clean ingredients, it is in powder form which helps reduce unnecessary carbon footprint from shipping of liquids across the country. An extra bonus? It smells delicious and you're supporting a Made in USA company (based in Florida). Don't be fooled into thinking this "natural" laundry detergent won't work as well as your conventional one. I use this on my hot yoga gear and have had nothing but clean and lovely smelling clothes as a result!
Molly's Suds Natural Laundry Powder, 120 Loads
$21.99
Bon Ami Surface Cleaner
I wrote about the wonders of Bon Ami in my article What's in my bathtub – good news this powder works on bathtubs, showers and kitchen sinks. Simply sprinkle a little Bon Ami in the sink, add water and scrub away with a brush or Skoy Scrub listed below. You can ditch the Soft Scrub and go for a safer, cheaper alternative.
Bon Ami Polishing Powder, 14 Oz
$1.69
Skoy Scrub
You know how most dishes and pans need a good scrub? I love these Skoy Scrubs which are highly effective and don't leave rust stains around your kitchen like steel wool. I was first introduced to this product at the ShiftCon Conference for health and green bloggers. The Skoy Scrub is long lasting, can easily be washed in the dishwasher or laundry machine and it's made out of cotton and a non-toxic hardener. Perhaps the best part about this company is that their products are packaged in the United States in partnership with The Arc of San Diego, creating jobs for people with disabilities. Environmentally sound, non-toxic and social good? Sign me up!
Skoy Scrub (2-pack)
 $5.99
Seventh Generation Dish Soap
Seventh Generation has been my go-to company for dish soap. There isn't much more to say than this product works, is free of scents or parfum and is safe for people and planet! Bonus? Seventh Generation has been actively asking for full ingredient disclosure for cleaning products.
Seventh Generation Dish Liquid, Free & Clear, 25 Fl Oz
 $2.97
Essential oils
I like to add a fresh scent to my homemade cleaner or I place a few drops in the sink when I'm done cleaning to help brighten up the room. I prefer to use Thieves blend, Lemon oil and Grapefruit oil when I'm cleaning. Young Living also has a great concentrated Thieves all purpose cleaner which is great for washing countertops, floors and appliances and has a yummy clove and cinnamon aroma. Learn more about everyday uses for essential oils here.
Young Living Thieves All Purpose Cleaner Concentrated 14 oz. $28.95 (If you order please use this code in both the Sponsor ID and Enroller ID boxes: 1795123 Thank you!)