I like to find out where my food comes from, don't you?
Whether you're looking at the yellow stickers on an apple at Ralph's supermarket or talking to someone at the Farmer's Market about where their operation is located, asking about our food has become a part of the normal routine for many American families. And that's a good thing. The time has come for us to start asking a second question, who picks my food and how are they treated?
Last night I watched the premier of the documentary Food Chains in Los Angeles. Theaters across the country were sold out and audiences leapt out of their seats to give standing ovations. Living in California, in the heart of some of our country's most powerful and sometimes divisive farmworker labor disputes, the conversation felt more relevant than ever.
For anyone who eats food, this fight is your fight.
Food Chains is outstanding and you should go see it as soon as possible or pre-order it on itunes. The film was brought to us by the creators of Food Inc. and Fast Food Nation and as a result the story telling, cinematography and musical score are outstanding. The producers of the film pulled together an all star "cast" featuring the incredible migrant farm workers and organizers at the Coalition of Immokalee Workers, Executive Producer and actor Eva Longoria, author of Fast Food Nation and labor activist Eric Schlosser, director of cinematography Forest Woodward who regularly shoots for National Geographic and Patagonia, and incredible editing by Erin Barnett.
The film tells the story of the people who pick our food, their abysmal working and living conditions and the power of collective organizing to create change. You may be thinking… c'mon Lindsay another intense and depressing topic? No! This is a story about hope, collective action and change that is happening right before our eyes.
Unlike some of the topics I write about – this has a simple and FAST solution.

The Hands that Pick our Food: Stories Untold and Unseen
The story starts in Immokalee, Florida a community where much of the fresh produce is grown for the eastern seaboard during the winter months. It's also home to hard working families who pick tomatoes provided for major supermarket chains like Publix and other fast food giants including Chipotle, Taco Bell and Trader Joe's. Have you ever read Grapes of Wrath? Steinbeck's powerful story from the 1930s tells the story of 2014. The cold hard fact is not much has changed for migrant farm workers, whether they are from Oklahoma or Mexico.
Here's the deal: the working conditions, living conditions and incredibly meager wages farm workers endure is unacceptable and as Eric Schlosser put it, can easily be fixed. Families are forced to live 15-16 people per trailer, living on top of each other and barely scraping by. These people are working their asses off. 5:00 AM – 8:00 PM is the daily shift, hustling and working their bodies day after day, earning an average of $42.00 for the 15 hour shift.
The farmers who employ them aren't necessarily the problem (although many do have the power to create safer work environments, use less pesticides etc) — it's the giant supermarkets who demand produce prices stay low, while the cost of gas, pesticides and farm equipment has all risen. In order to sell their produce to giant supermarkets, farmers have been forced to cut wages from farmworkers. The result has been economic ruin for tens of thousands of families who pick the food we enjoy all day, everyday.
The kicker? It would only cost 1 cent (yes you read that right $00.01) for supermarkets to add to the cost of tomatoes to DOUBLE the wages of farmworkers.
So What Gives?
Why aren't major supermarkets simply raising the cost of tomatoes one cent? The cost to the grocery giants (Safeway, Publix, Kroger etc) would be small compared to their annual gross income. And the cost to the average American family? Forty four cents a year extra to pay for your tomatoes.
We have huge problems to fix in this country, ones that have complicated solutions that require a lot of political and societal will. This issue is such a simple fix, all we need to do is urge retail giants to sign the Fair Food Program.

Fair Food Program
The simple yet effective Fair Food Program has been signed by all of the "top five" fast food chains except Wendy's. Even Walmart signed the agreement and has expanded beyond just the tomatoes they sell. The program would require a one cent increase in price of tomatoes which would double wages and help create more economic stability and more sane living conditions for families. It also has a code of conduct that the supplier is responsible for, making it explicit that what happens farther down on the supply chain (aka how workers are treated), is their problem. So far the Fair Food Program has been wildly successful, adding to worker wages and improving workplace conditions.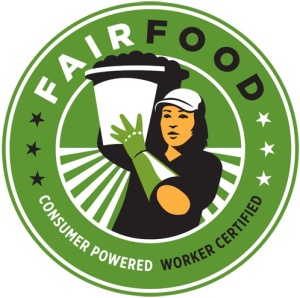 A Model to Change the System
The film talks about several different sectors of the U.S. agricultural market, but focuses on tomatoes. The Fair Food Program can be applied to other produce sectors and change the lives of farmworkers, drastically shifting our agriculture system to one that respects and supports a living wage.
Publix and Wendy's Ignore Public Outcry
People across the nation (including myself) are outraged that Publix won't sit down with the Coalition of Immokalee Workers (CIW) to talk to them about the Fair Food Program. The coalition tried calling, letter writing and emailing the company to request a meeting before turning to more public campaigning. And still…not even one meeting. Similarily Wendy's is looking the other direction.
Shame on Publix. Shame on Wendy's.
As one of the four biggest supermarket chains in the country, Publix yields enormous power to change the lives of people with very little cost to the business or their consumers. Publix has said that this is a "labor dispute" and they don't get involved in labor disputes… Publix needs to sign the Fair Food Program immediately, or their brand and image is going to suffer tremendously. In response to the incredible organizing of the CIW and a national social media movement coming out of this documentary, they will have no choice but to sign this agreement.
It's not a question of if Publix will sign the Fair Food Program, but when.
So will other grocery chains get ahead of the curve and sign this agreement before they are next on the list? Again, this isn't a hard decision for companies and the cost is insignificant. Will Kroger's, Safeway, Target and other retail giants be proactive and sign this simple and important agreement?
Join me and take action: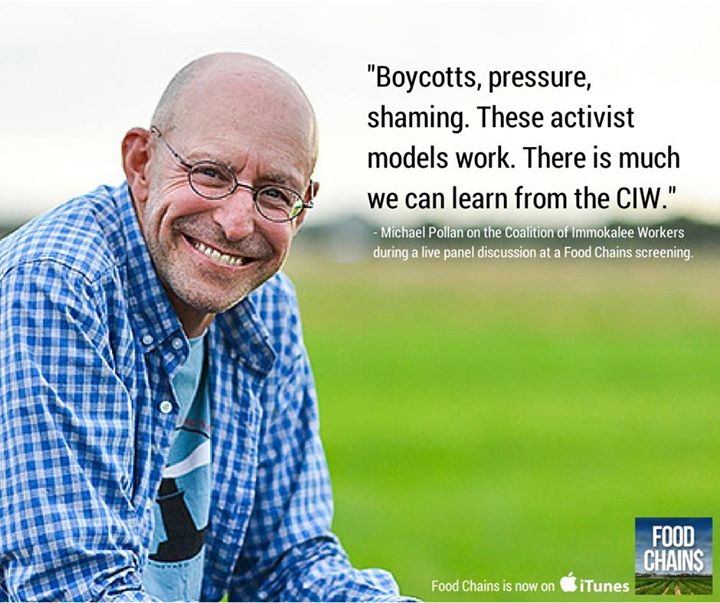 If you're on Twitter take a moment to re-tweet what I sent out below, we need to take our lead from the resilient organizers at CIW and be vocal and never turn our backs on the people who nourish our bodies and families.
Why won't @Publix and @Wendys sign the @FairFoodProgram agreement? Learn & Act >> https://t.co/NKCEov13Dv @CIW @FoodChainsFilm

— Lindsay Dahl (@LindsayDahl) November 23, 2014
As I drove home from the film last night, I turned right onto Cesar Chavez Street. The road was named after him for a reason, he gives many of us hope that farmworker right is something that can be achieved.
The questions that remain are: will we speak up and how fast will these companies respond? My hope is the answer to these questions is yes and fast.
Find locations where the film is showing here. Pre-order Food Chains on itunes.
Photo Credit: Food Chains Documentary and Fair Food Program
Join my email list and never miss a post!
Watch the trailer:
---